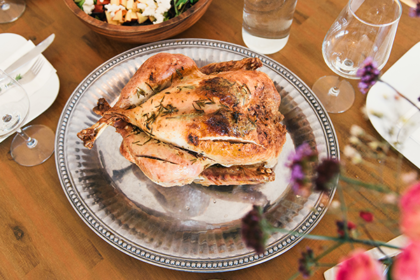 Recipe courtesy from Chef Joe Realmuto at Nick and Toni's in The Hamptons of Food Network
Total Time: 9 hr 45 min
Prep: 45 min
Inactive: 8 hr
Cook: 1 hr
Yield: 4 servings
Level: Intermediate
Ingredients
• Chicken:
• 2 organic chickens, skin on
• 1/2 cup white wine
• 1/2 cup olive oil
• 2 large sprigs rosemary, roughly chopped
• 5 cloves roughly chopped garlic
• Garnish:
• 1/2 pound pancetta
• 20 whole cloves garlic
• Fresh sprigs rosemary
• Sauce:
• Olive oil
• 1 large white onion, diced
• 10 cloves fresh garlic
• About 2 to 3 cups chicken stock
• 2 large sprigs rosemary
• Choice of potato, for serving
Add Checked Items To Grocery List
Directions
For the chicken:
• Butcher, or bone, the chickens so you have 4 halves with only the wing bones remaining. Marinate the chicken overnight in the wine, oil, rosemary, and garlic.
• For the garnish:
• Dice the pancetta and render it almost fully, put aside. Roast the whole garlic cloves until they are soft (foil works well) and put aside. Gather rosemary and put aside.
• For the sauce:
• In a large saute pan, brown onions and garlic in olive oil. Add chicken stock and rosemary and reduce ingredients over heat by half. Remove rosemary stems, and puree sauce until smooth and put aside.
• In 2 large very hot oven proof saute pans place 2 chickens halves in each, with some olive oil. Place them skin side down, shake to ensure there's no sticking. Place on floor of a very hot oven, and roast until skin is crisp, and chicken is fully cooked.
• Place several spoonfuls of sauce on plate, then your favorite type of potato next the chicken. Add the pancetta, roasted garlic cloves, and fresh rosemary garnish.
Professional Recipe:This recipe was provided by a chef, restaurant or culinary professional and makes a large quantity. The Food Network Kitchens chefs have not tested this recipe in the proportions indicated and therefore cannot make any representation as to the results.
Recipe courtesy of Chef Joe Realmuto at Nick and Toni's in The Hamptons
Advertisement
In partnership with, G.P. All Rights Reserved
For more Recipes:
Chili-Rubbed Free Range Chicken with Guacamole and Pico De Gallo, Smothered Black Beans and Tortilla Threads
Free-Range Chicken in Vinegar Lyon-style