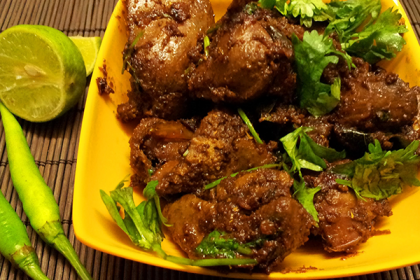 Ingredients
500 g Elgin Free Range chicken livers
30 ml olive oil
30 g butter
I onion, peeled, halved and thinly sliced
2 garlic cloves, crushed
2 red chillies, seeded and chopped
5 ml ground cumin
5 ml ground coriander
5 ml paprika
salt and freshly ground black pepper
1T tomato paste
2T brandy
1T Worcestershire sauce
1T red wine vinegar
½ cup chicken stock
½ cup cream
fresh Italian parsley to serve
Directions
Clean and trim your livers and cut into 2 cm pieces
Heat olive oil and butter in a large frying pan and sauté the onions until soft
Always season your onions with a pinch of salt
Add the garlic and sauté for another minute or so
Add your spices – red chilies, cumin, coriander and paprika and cook through for a minute
Add your tomato paste and cook for another minute.
Add your livers and cook them over a high heat for about 2 minutes.
Once they are cooked through, add the brandy and let this reduce off slightly. Then add the Worchester sauce, chicken stock, red wine vinegar and cream and let this gently simmer for 5 minutes. Check your seasoning for salt and pepper. You don't want to boil the livers so make sure this is a gently heat. Finish off your livers with some fresh roughly chopped Italian parsley and serve with crusty bread.