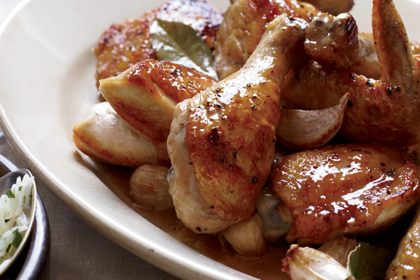 Recipe courtesy from Emeril Bagasse of Food Network
Total Time: 1 hr 15 min
Prep: 20 min
Cook: 55 min
Yield: 4 servings
Level: Intermediate
Ingredients
• 1 free-range chicken or fryer, 3 1/2 to 4 pounds, cut into 8 pieces, rinsed and patted dry
• 2 teaspoons salt
• 3/4 teaspoon freshly ground black pepper
• 8 tablespoons unsalted butter, cut into small pieces
• 1 tablespoon vegetable oil
• 6 cloves garlic, unpeeled
• 1 cup good-quality white wine vinegar
• 2 tomatoes, peeled, seeded and chopped, about 1 cup
• 2 cups chicken stock
• 2 tablespoons creme fraiche or heavy cream
• Chopped parsley, garnish
Add Checked Items To Grocery List
Directions
• Season the chicken evenly on both sides with the salt and pepper.
• In a large Dutch oven, melt 2 tablespoons of the butter with the oil over medium-high heat. Add the chicken and garlic cloves and cook until the chicken is well browned, turning once, about 8 to 10 minutes per side. Add the vinegar and stir to loosen any browned bits on the bottom of the pan. Add the tomatoes, cover the pot and reduce the heat to medium. Cook until the chicken is tender, about 25 minutes. Transfer the chicken pieces to a warmed platter and cover to keep warm.
• Add the chicken stock to the pot and bring to a boil, scraping any browned bits that cling to the sides or bottom of the pan. Cook until the sauce is reduced by 1/3 in volume, about 10 minutes. Strain the sauce through a fine sieve and return to the pan, discarding the solids. Reduce the heat to low. Add the remaining butter, a piece at a time, whisking constantly until all the butter has been added and the sauce is smooth and thick. Do not allow the sauce to boil and remove from the heat as necessary to prevent from breaking. Add the creme fraiche and whisk to combine. Adjust the seasoning to taste.
• Ladle the sauce over the chicken and garnish with the parsley.
Recipe courtesy of Emeril Lagasse
Advertisement
In partnership with, G.P. All Rights Reserved
For More Recipes:
Roasted Free Range Chicken
Chili-Rubbed Free Range Chicken with Guacamole and Pico De Gallo, Smothered Black Beans and Tortilla Threads