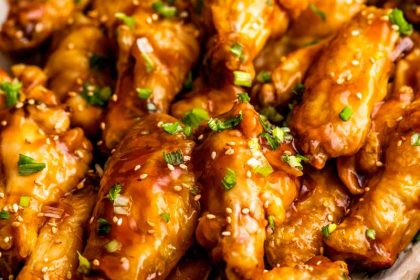 .
.
.
.
.
.
.
Ingredients
Teriyaki Sauce
Instructions
Add baking powder, sea salt, and black pepper to bowl, then toss chicken wings to coat.

Arrange chicken wings on rack in prepared baking sheet, spacing them so that the chicken wings do not touch.

Bake chicken wings for 40-45 minutes or until wings are a light golden brown.
For the Teriyaki Sauce
While sauce comes to a boil, create a slurry by adding remaining 1/4 cup water and cornstarch to a small bowl, then whisking until cornstarch is dissolved.

Pour the slurry in the saucepan, then bring the sauce back to a boil, whisking frequently. Once boiling, cook for 1-2 minutes or until desired thickness is reached. For best results, sauce should easily coat the back of a spoon.

Remove teriyaki sauce from heat and let cool slightly, about 5-10 minutes.
!Putting it all Together
Serve teriyaki chicken wings immediately with green onion and sesame seeds for garnish.