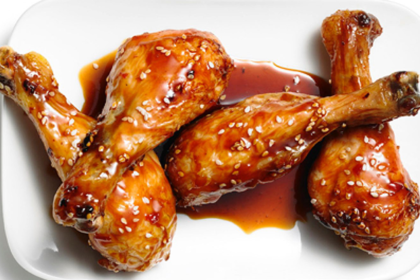 Recipe courtesy of Food Network Magazine
Total Time:
1 hr
Prep:
20 min
Cook:
40 min
Yield:4 servings
Level:Easy
Ingredients
12 skin-on Elgin Free Range Chicken drumsticks
Kosher salt and freshly ground pepper
2 cups apple juice
1/2 cup apple cider vinegar
1/4 cup low-sodium soy sauce
2 teaspoons honey
Grated zest of 1 lemon
1/8 to 1/4 teaspoon red pepper flakes
2 teaspoons sesame seeds (optional)
1 tablespoon unsalted butter
Directions
Preheat the oven to 450 degrees F. Set a wire rack on a rimmed baking sheet. Put the drumsticks on the rack and season both sides generously with salt and pepper. Bake 30 minutes; flip the drumsticks and continue baking until golden and crisp, about 30 more minutes.
Meanwhile, make the sauce: Bring the apple juice, vinegar, soy sauce, honey, lemon zest, red pepper flakes and a pinch of salt to a high simmer in a large skillet over medium-high heat. Cook until the sauce is syrupy and coats the back of a spoon, 20 to 25 minutes. Set aside until the chicken is done.
Stir the sesame seeds into the sauce, if using, and warm over medium heat, if necessary. Transfer the chicken to a large bowl. Add the sauce and butter and toss to coat. Season with salt and pepper. Transfer the chicken to a platter and drizzle with any remaining sauce from the bowl.
Catch FOOD NETWORK on DStv Channel 175 for everyday inspiration from Chef's and foodies both locally and around the Globe.
For more information about Food Network visit Foodnetwork.com