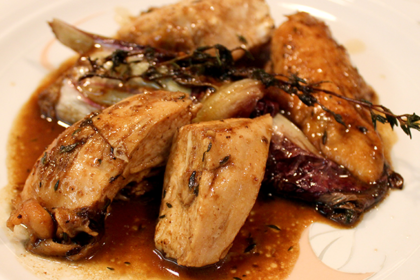 YOU WILL NEED: 
4 skinless free range chicken breast fillets
salt and freshly ground black pepper
Cornflour for dredging
5 Tablespoons butter
2 Tablespoons olive oil
1 red onion, peeled thinly sliced
1 punnet of mushrooms, cleaned and sliced
2 garlic cloves, crushed
2 teaspoons tomato paste – a sundried tomato paste works really well
1 cup Marsala wine
2 Tablespoons Dijon mustard
1 cup chicken stock
¼ cup cream
squeeze of lemon
2 Tablespoons chopped Italian parsley
PREPARATION: 
With a sharp knife open up your breast fillets so that they are the same thickness all the way through. This will help to cook them evenly. You can also place them under a piece of glad wrap and flatten them out with a rolling pin. Dredge the breast fillets in some seasoned corn flour and set aside.
Heat the oil and 2T butter in a large pan over a high heat. Add the chicken and brown until just cooked – about 3 minutes each side. Be careful not to over cook them. You can always finish cooking them in your sauce. Transfer to a plate while you make your sauce.
Melt 2 T butter in the same pan and add the onions. Sauté until tender. Add the mushrooms and garlic and sauté until the mushrooms are tender and the juices evaporate. Add your tomato paste and cook for a minute or 2 – you need the paste to cook through. Add the wine and simmer for about 5 minutes. Add the mustard and stock and simmer further, until the sauce reduces to half.
Return your chicken to the pan, with all the cooking juices and gently simmer until the chicken is cooked through. This should take about 2-3 minutes. Do not boil as you will make the chicken tough
Check your seasoning. Add the cream, squeeze of lemon and parsley and serve