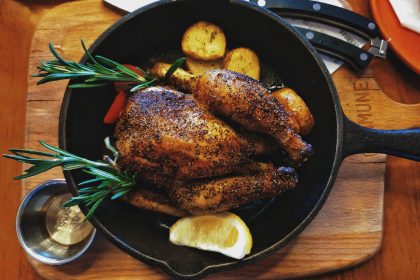 .
.
.
.
.
.
.
Ingredients
1 Whole Chicken, giblets removed, rinsed, and patted dry
Kosher Salt for the day before
2 teaspoons Thyme leaves fresh, or 1 teaspoon dried
2 teaspoons Salt Kosher
1 teaspoon Onion Powder
2 Cloves Garlic minced
1 Tablespoon Brown Sugar
2 teaspoons Paprika smoked
1 Pinch Black Pepper
1/2 teaspoon Ground Mustard
1/8 teaspoon Cayenne
1/8 teaspoon Chili Powder
1/4 teaspoon Cumin
6 Tablespoons butter unsalted, softened
Instructions
The day before you want to cook the chicken, rinse and pat the chicken dry. Season chicken generously with kosher salt and place on a plate in the fridge, loosely cover with plastic.
A few hours before it's time to cook, remove the plastic wrap. Take the chicken from the fridge 1 hour before you plan to cook it. Heat the oven with a rack set in the center position.
Tightly tie together the legs with a piece of butcher's twine. Place spices in a bowl and mix to combine. Sprinkle 1 tablespoon of spices in the cavity of the chicken.
Add butter to the remaining spices and stir to combine. Lift the skin of the chicken and rub 1/2 of the spiced butter all over the meat under the skin then the remaining butter all over on top of the skin.
Place the chicken in a 10-inch cast-iron skillet or a shallow roasting pan. Slide the pan all the way to the back of the oven on the center rack, rotating the pan so that the legs are pointing toward the rear left corner and the breast is pointing toward the center of the oven.
After about 20 minutes, when the chicken starts to brown, reduce the temperature and continue roasting for 10 minutes.
Open the oven and turn the pan so the legs are facing the rear right corner of the oven. Continue cooking for another 30 minutes or so, until the chicken is brown all over and the juices run clear when you insert a knife down to the bone between the leg and the thigh. If the skin is getting too brown before it is cooked through, use a foil tent.
Remove chicken to a platter and let it rest for 10 minutes before carving.