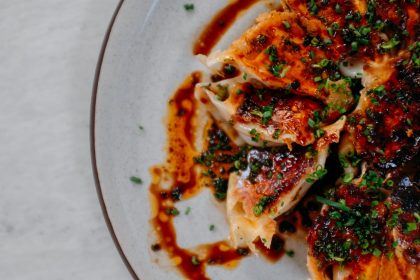 .
.
.
.
.
.
.
Ingredients
3 tablespoons olive oil
4 chicken breasts
1 teaspoon poultry seasoning
1 teaspoon salt
1 teaspoon freshly ground black pepper
1/2 cup white wine or chicken broth
3 tablespoons unsalted butter
1 tablespoon garlic, minced
2 teaspoons fresh parsley
Instructions
To a large skillet, add olive oil, chicken breasts, and evenly season with salt, pepper, and seasoning, and cook over medium-high heat for 5 minutes. Leave chicken while cooking and flip over after 5 minutes and cook until golden.
Turn the chicken one more time and cook another 5 minutes, until cooked through then set aside.
Remove chicken with spatula and place on a plate to rest.
Deglaze the skillet by adding wine or broth, and allow the liquid to bubble up and steam for a few seconds.
Add the butter and allow it to melt for 1 minute, stirring continuously.
Add the garlic and cook until fragrant, about 1 minute, while stirring.
Turn the heat off, add the chicken back into the skillet turning it around. Spoon the sauce over the chicken.
Garnish with parsley and serve.