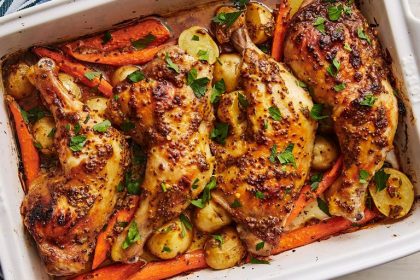 .
.
.
.
.
.
.
Baked chicken leg quarters glazed with mustard, maple syrup, and herbs and then roasted on top of potatoes and carrots for an award-winning dinner. Veggies roasted under chicken will always be #1 in our hearts.
INGREDIENTS
12 oz. baby potatoes, halved
8 oz. small carrots, halved
2 tbsp. extra-virgin olive oil, divided
Kosher salt
Freshly ground black pepper
4 lb. whole chicken legs with thighs attached, room temperature
2 tbsp. Dijon mustard
2 tbsp. whole-grain mustard
1 tbsp. maple syrup
1 tsp. fresh thyme leaves
Pinch crushed red pepper flakes
Freshly chopped parsley, for garnish
DIRECTIONS
Preheat oven to 450°. Toss potatoes and carrots in bottom of large baking dish with 1 tablespoon oil. Season with salt and pepper.
Pat chicken dry with paper towels, drizzle with remaining tablespoon oil, and season with salt and pepper. Arrange, skin-side up, on top of vegetables in baking dish.
In a small bowl, stir together mustards, maple syrup, thyme, and red pepper flakes. Brush on top of chicken and drizzle any extra over vegetables. Roast chicken until golden and a thermometer inserted into thickest part of thigh registers 160°, about 30 minutes.
Let cool slightly, sprinkle with parsley.
https://www.delish.com/cooking/recipe-ideas/a30535853/baked-chicken-leg-quarters-recipe/