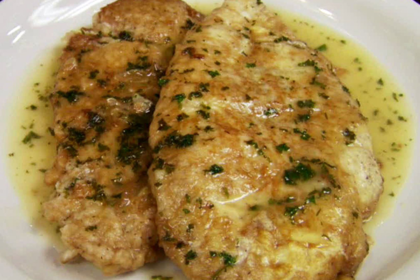 Recipe courtesy from Robert Irvine of Food Network
Total Time:
20 min
Prep:
10 min
Cook:
10 min
Yield:4 portions
Level:Easy
Ingredients
2 ounces grapeseed oil
Four 6-ounce Elgin Free Range Chicken breasts
4 large eggs, beaten
1/4 cup all-purpose flour
Salt and ground white pepper
1 cup chicken stock
1/4 pound (1 stick) butter
2 lemons, juiced
1 teaspoon minced fresh parsley
Directions
Heat a large saute pan over medium-high heat until warmed. Add the oil. During heating, dip the chicken breasts into the eggs, and then dust each breast with seasoned flour on both sides. Once floured, add to the oiled pan, reduce the heat to medium and cook until light brown in color, 3 to 4 minutes. Flip and repeat cooking for a final 3 to 4 minutes. Once cooked, remove the breasts from the pan and allow to finish with carry-over cooking.
Return the same pan to the heat and add the stock. Allow to simmer and reduce by three-quarters of the volume. After reducing, whisk in the butter to create a sauce, removing from the heat during the process. Finally, finish with lemon juice and parsley and serve over the chicken.
Catch FOOD NETWORK on DStv Channel 175 for everyday inspiration from Chef's and foodies both locally and around the Globe.
For more information about Food Network visit Foodnetwork.com