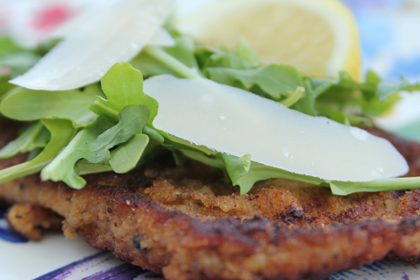 Recipe courtesy from Ree Drummonds of Food Network
Total Time:
35 min
Prep:
20 min
Cook:
15 min
Yield:4 servings
Level:Easy
Ingredients
2 boneless, skinless Elgin Free Range Chicken breasts
1/4 cup whole milk
3 large eggs
1/2 cup all-purpose flour
Kosher salt and freshly ground black pepper
1 cup seasoned breadcrumbs
2 tablespoons butter
2 tablespoons olive oil
Arugula, for serving
Balsamic vinegar, for drizzling
1/2 cup fresh Parmesan shavings
1 lemon, cut into wedges
Directions
Place your palm flat against the top of each chicken breast and carefully slice each piece in half horizontally; you'll be left with 4 thinner chicken breast pieces. Place each chicken cutlet between 2 sheets of waxed paper and use the smooth side of a mallet (or a rolling pin) to pound them until they're very thin. If you think they're thin enoughpound 'em a few more times! The thinner the better.
In a dish, whisk together the milk and eggs. Place the flour in another dish and mix in some salt and pepper. Place the breadcrumbs in a third dish. Set the 3 dishes aside for a sec.
Salt and pepper both sides of the chicken pieces, then dredge them 1 at a time in the flour, then quickly dunk both sides in the egg mixture and then coat both sides in the breadcrumbs. Lay each piece on a plate until you're ready to cook them.
Heat 1 tablespoon butter and 1 tablespoon olive oil in a skillet over medium-low heat. When it's melted and hot, add 2 pieces of the breaded chicken and cook, flipping once, until the breading is golden brown and the chicken is cooked, 2 to 3 minutes per side; transfer the chicken to a clean plate. Add the other tablespoon of butter and oil to the skillet and cook the other 2 pieces of chicken.
To serve, place 1 piece of cooked chicken on each plate. Top generously with arugula. Sprinkle with a little kosher salt, drizzle with balsamic vinegar and sprinkle on some Parmesan shavings. Serve with a lemon wedge on the side.
For more delicious recipes and interesting content pieces on the personalities of FOOD NETWORK, go to http://spice4life.co.za/lets_talk_business/spice4life-enters-into-content-partnership-with-food-network-dstv-channel-175-and-travel-channel-dstv-channel-179/
Catch FOOD NETWORK on DStv Channel 175 for everyday inspiration from Chef's and foodies both locally and around the Globe.
For more information about Food Network visit Foodnetwork.com