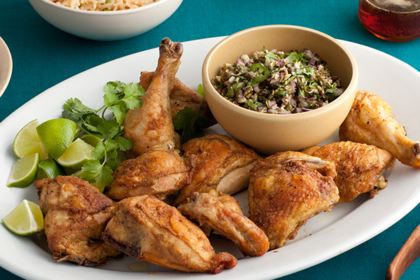 Recipe courtesy of Food Network Kitchens
Total Time:
1 hr 5 min
Prep:
15 min
Cook:
50 min
Yield:6 servings
Level:Easy
Ingredients
4 tablespoons extra-virgin olive oil
2 1/2 teaspoons ground cumin
1 1/2 teaspoons ground coriander
Kosher salt and freshly ground black pepper
One 5-pound Elgin Free Range Chicken, cut into pieces (halve breasts crosswise if large)
1 cup pepitas (peeled pumpkin seeds)
1/2 cup fresh cilantro leaves
1 tablespoon fresh lime juice
1 Fresno chile or jalapeno, seeded if desired and finely diced
1/4 small red onion, finely diced
Serving suggestions: Mexican rice and black beans
Directions
1. Preheat the oven to 425 degrees F. Combine 2 tablespoons of the oil with the cumin, coriander, 2 teaspoons kosher salt and 1 teaspoon pepper in a small bowl. Rub the spiced oil all over the chicken pieces and place on a foil-lined shallow-rimmed baking sheet. Roast until the chicken is golden brown and crisp and a thermometer inserted into the thickest parts registers 165 degrees F, about 45 minutes.
2. Meanwhile, toast the pepitas in a large dry skillet over medium heat, stirring occasionally, until crisp, about 5 minutes. Cool and coarsely chop. Transfer to a medium bowl, add the cilantro, lime juice, chiles, onions, remaining 2 tablespoons oil and 3/4 teaspoon salt and toss together.
3. Arrange the chicken pieces on a platter and serve with the bowl of salsa on the side, accompanied by Mexican rice and black beans.
Catch FOOD NETWORK on DStv Channel 175 for everyday inspiration from Chef's and foodies both locally and around the Globe.
For more information about Food Network visit Foodnetwork.com