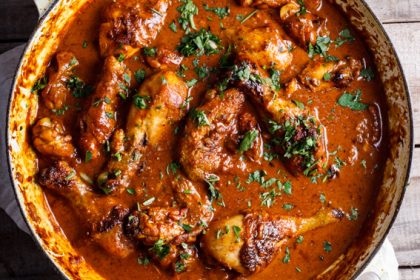 Original article: https://simply-delicious-food.com/easy-weeknight-chicken-curry-with-cucumber-yoghurt-and-roti/
Written by:Alida Ryder
HOW DO YOU MAKE A SIMPLE CHICKEN CURRY?
Sear chicken pieces (you can use bone-in pieces or cubed chicken breast) until golden brown all over then remove and set aside. Sauté onions, garlic and ginger until soft and fragrant then add spices. Add tomatoes, stock and cream along with the seared chicken pieces and season to taste. Cook for 20-30 minutes until the chicken is cooked through and the sauce has reduced and thickened slightly.
Here is a deeply aromatic and flavourful chicken curry served with roti and cucumber raita we have found which is perfectly suited for fuss-free weeknight cooking.
Course: Chicken, Curry
Servings: 6 (If you don't have a big family or hungry kids, then you will be very happy as you enjoy the leftovers for lunch the following day)
Calories: 356 kcal
Ingredients:
12 pieces chicken of your choice bone in, skin on (drumsticks, thighs and wings work well)
1 large onions finely chopped
4 cloves garlic finely chopped
5 cm piece fresh ginger grated
2 tablespoons Garam Masala
1 teaspoon paprika
1/2 teaspoon ground cinnamon
1 teaspoon chilli flakes
2 cans chopped tomatoes / 3 cups chopped fresh tomatoes
2 teaspoons sugar optional
500 ml chicken stock
150 ml cream
salt & pepper to taste
fresh coriander chopped, to serve
warmed roti to serve
for the cucumber yoghurt
1 cup grated cucumber
1 cup Greek yoghurt
lemon juice salt and pepper, to taste
Instructions:
Heat a large, deep pan over high heat and add a splash of oil to the pan.
Brown the chicken all over then remove and set aside.
Add the onions to the pot and allow to soften for 5 minutes then add the ginger, garlic and spices.
Add another splash of oil if the mixture is too dry and fry for 30 seconds.
Add the chicken back to the pan then pour in the tomatoes, chicken stock and sugar.
Turn the heat down and allow to simmer for 15 minutes or until the chicken is cooked through.
After 15 minutes, add the cream and season to taste then allow to simmer for another 5 minutes.
Sprinkle over the chopped coriander and serve with the roti and cucumber yoghurt.