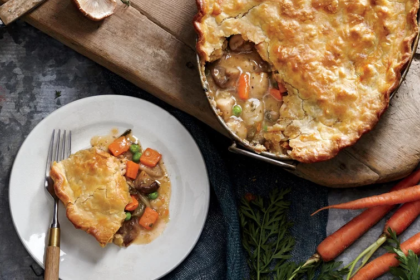 Original Article: http://www.cookinglight.com/recipes/chicken-mushroom-potpie
Photo: Justin Walker
Hands-on Time
36 Mins
Total Time
1 Hour
Yield
Serves 6 (serving size: about 1 1/2 cups)
This homey and healthy chicken potpie boasts a creamy, savory sauce you'll want to lick from the pan. It's a flavor experience that often relies on several hours of slow cooking, but we've sped it up with a few shortcuts that still deliver on flavor satisfaction. For example, refrigerated pie crust dough is used in place of homemade dough. Potpie is a great way to use up leftover chicken or turkey, and that'll shave a few minutes off your cook time, too. Just skip step 2, add chicken to a warmed Dutch oven, and start the recipe at step 3. Thickening the sauce in the pan before the pie goes into the oven results in a luscious sauce that's begging for a swipe with crusty bread.
Ingredients
Cooking spray
2 tablespoons olive oil, divided
1 1/2 pounds skinless, boneless chicken breast halves, cut into 1-inch pieces
1/2 teaspoon kosher salt, divided
1/2 teaspoon freshly ground black pepper, divided
12 ounces assorted mushrooms, such as shiitake and button, sliced
1 cup thinly sliced onion
1 tablespoon chopped fresh thyme
2 garlic cloves, minced
1 cup finely chopped carrot
8 ounces green beans, trimmed and cut into 1-inch pieces
2 cups unsalted chicken stock (such as Swanson)
1.1 ounces all-purpose flour (about 1/4 cup)
1 cup frozen green peas
2 tablespoons chopped fresh flat-leaf parsley
1/2 (14.1-ounce) package refrigerated pie dough
How to Make It
Step 1
Preheat oven to 425°. Coat an 8-cup ceramic oval baking or gratin dish with cooking spray.
Step 2
Heat a large Dutch oven over medium-high heat. Add 1 tablespoon oil to pan; swirl to coat. Sprinkle chicken with 1/4 teaspoon salt and 1/4 teaspoon pepper. Add half of chicken to pan; cook 3 minutes or until lightly browned. Remove chicken from pan. Repeat procedure with remaining chicken.
Step 3
Add remaining 1 tablespoon oil to pan. Add mushrooms, onion, thyme, garlic, remaining 1/4 teaspoon salt, and remaining 1/4 teaspoon pepper to pan; cook 12 minutes or until mushrooms are browned, stirring occasionally. Add carrot and green beans; cook 3 minutes, stirring occasionally. Combine stock and flour in a bowl, stirring with a whisk. Add stock mixture to pan; bring to a boil, scraping pan to loosen browned bits. Cook 3 minutes or until slightly thickened. Stir in chicken, peas, and parsley. Spoon chicken mixture into prepared pan.
Step 4
Roll dough to an oval large enough to cover the baking dish. Lay dough over filling. Fold edges under, and crimp, if desired. Bake at 425° for 25 minutes or until browned and bubbly.