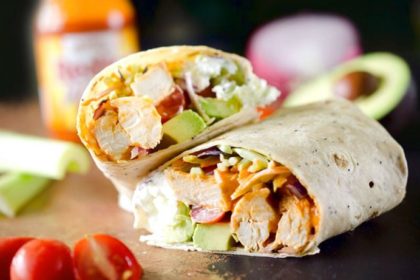 Original Article: http://foodrecipesearch.com/buffalo-chicken-wraps/
Prepare time: 5 min
Cook: 25 min
Ready in: 35 min
Buffalo Chicken Wraps does not mean that you need to include the chicken meat and buffalo meat altogether to the dish. You only need chicken as the main ingredient of this dish. Meanwhile, the term buffalo here comes from a town called Buffalo in New York where the people usually make a deep fried chicken wing with sauce and butter. This kind of cooking method is first introduced here, so that's why people often call it as buffalo or buffalo wing which is a chicken wing.
How to make Buffalo Chicken Wraps
To make buffalo chicken wraps is very easy. It is nearly the same with making other wrapped dishes. As we can see from the menu, all you need is chicken and tortilla as the wrapping layer. Besides, you also need some other ingredients like kinds of vegetables and sauces. To make your version of buffalo chicken wraps, see the recipe below.
Ingredients
150 gr of flour
115 gr of buttermilk
Four boneless chicken breasts, diced
240 ml of canola oil or other vegetable oil
120 ml of hot pepper sauce
55 gr of melted butter
Four layers of spinach tortillas
A cup of lettuce leaves, shredded
A cup of grated cheddar cheese
150 gr of tomatoes, chopped
Blue cheese as the salad dressing
Salt and pepper
Directions
1. Get a medium bowl and fill in with flour, salt, and pepper. Mix them well. Prepare another bowl and sink the chicken breasts with buttermilk in it. Make sure all part of the chicken is in the buttermilk. Next, roll the chicken in the flour mixture and do the same to the remaining chicken.
2. Prepare a large skillet and heat it up with olive oil over 4 or 5 minutes on each side or until the thermometer reaches the number of 170 celsius-degree. After the chicken is cooked, take some paper towels to drain the oil of the chicken. Next, cut them into strips.
3. Take another bowl and put the butter and hot pepper sauce. Bathe the upper and bottom sides of chicken pieces with the mixture. Then, prepare a layer of tortilla with lettuce leaves, cheese, and tomatoes on it. Do not forget to input the chicken into the fillings. Wrap each side of the tortilla and roll it over the fillings. You can use toothpicks to make the tortilla stay shut.
Such a simple and quick ways to cook buffalo chicken wraps! If you already have all the ingredients in your kitchen, then just cook some and enjoy the delicious bites of buffalo chicken wraps.