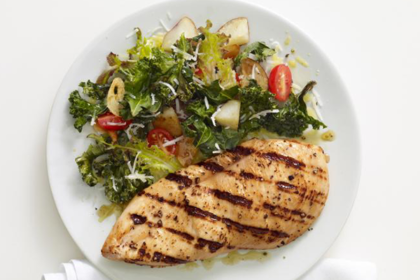 Recipe courtesy from Antonis Achilleos of Food Network
Total Time:
40 min
Prep:
10 min
Cook:
30 min
Yield:4 servings
Level:Easy
Ingredients
1/2 pound small red-skinned potatoes, cut into 1/2-inch pieces
2 tablespoons extra-virgin olive oil, plus more for brushing
1 large bunch kale, stems removed, leaves torn (about 10 cups)
3 cloves garlic, thinly sliced
Kosher salt and freshly ground pepper
2 large skinless, boneless Elgin Free Range chicken breasts (about 1 1/2 pounds)
4 cups mixed salad greens
1/2 cup cherry tomatoes, halved
1/3 cup grated parmesan cheese
1 tablespoon fresh lemon juice
Directions
Preheat the oven to 425 degrees F. Toss the potatoes with 1/2 tablespoon olive oil on a rimmed baking sheet; spread in a single layer and roast 5 minutes. Toss the kale in a large bowl with the garlic, 1/2 tablespoon olive oil, 1/4 teaspoon salt, and pepper to taste. Add to the baking sheet with the potatoes and toss. Roast until the kale is crisp and the potatoes are tender, stirring once, 15 to 20 minutes.
Meanwhile, preheat a grill or grill pan to medium and brush with olive oil. Slice the chicken breasts in half horizontally to make 4 cutlets. Coat evenly with 1/2 tablespoon olive oil and season with salt and pepper. Grill the chicken until well marked and cooked through, 2 to 4 minutes per side. Transfer to a plate.
Toss the kale, potatoes, the remaining 1/2 tablespoon olive oil, the salad greens, tomatoes, parmesan, lemon juice, and salt and pepper to taste in a large bowl. Divide the chicken among plates and top with any collected juices. Serve with the kale salad.
For more delicious recipes and interesting content pieces on the personalities of FOOD NETWORK, go to http://spice4life.co.za/lets_talk_business/spice4life-enters-into-content-partnership-with-food-network-dstv-channel-175-and-travel-channel-dstv-channel-179/
Catch FOOD NETWORK on DStv Channel 175 for everyday inspiration from Chef's and foodies both locally and around the Globe.
For more information about Food Network visit Foodnetwork.com