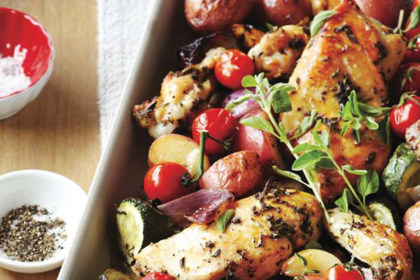 Ingredients
8 Elgin Free Range chicken thighs
8 Elgin Free Range chicken drumsticks
2 potatoes, peeled and quartered
1 sweet potatoes, peeled and quartered
3 carrots, peeled and sliced into large slices
2 celery sticks, trimmed and sliced
1 large onion, peeled, cut in half and sliced into wedges
5 garlic cloves, don't worry to peel them
handful of cherry tomatoes
chicken seasoning of your choice – I like the Ina Paarmen Braai and Grill seasoning
Splash of balsamic vinegar
Splash of olive oil
Salt and pepper
Directions
Par cook your potatoes for 6-7 minutes whilst you prep the rest of the veggies
Preheat you oven to 200 ° C
In a large baking tray add your veggies and chicken.
Try to use a baking tray large enough so that you can lay out a single layer. If you pack it all in too tight it will steam instead of roast.
Once you have all your veggies and chicken in the tray, season with salt and pepper, your chicken spice of choice and a good drizzle of olive oil and balsamic vinegar.
Don't worry about peeling your garlic, just add it to the tray
Toss everything around to ensure that it is all coated.
Roast in the oven for at least an hour, checking on it every 20 minutes to turn the chicken and veggies.
Remove the garlic cloves and squeeze out the sweet roasted garlic and mix this through your dish.
Remove once the chicken is cooked through and the veggies are roasted.